Bring the Heat This Summer With 5 Killer Curb Appeal Hacks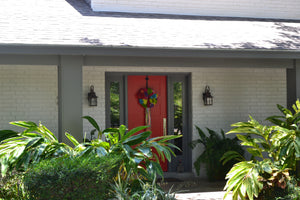 Summer is in full swing! Winter is long gone and it's nice to finally get outside to enjoy some fun in the sun. Now is the perfect time for summer swimming parties, barbeques, and family reunions. But has the bright sun cast light on how much you've neglected your home's exterior?
If you're ready to revitalize your summer's social calendar but feel like your home needs a little sprucing up before it's ready for visitors, Bonnie Harms Designs has 5 killer curb appeal hacks just for you.
1. Rev up the driveway.
Before visitors even make it to your front door, you'll want to wow them at your driveway. To begin with, make sure the driveway is clean and free of any unsightly oil stains. A fresh coat of asphalt or concrete sealer will do wonders in reviving its look. Also, groom your yard so that it is nicely cut with crisp edging where the grass meets the driveway. Plant some gorgeous flowers on both sides of the driveway and add some solar lighting to illuminate the path to your home.
2. A pop of color.
Number two on our list of killer curb appeal ideas goes to wreaths. Whether you want to commemorate a summer holiday (July 4th is just around the corner), you're looking for a gorgeous wreath to match the colors of your home, or you want something bright and festive for a summer gathering, there are plenty of options available to you. Whatever style of wreath you choose to go with, they are guaranteed to match your personal flair and make your home as welcoming as you are. Visitors will love them and neighbors just might envy them. Wreaths are definitely the fastest and easiest way to jazz up the curb appeal of your home!
3. A fresh coat of paint.
If you're looking to make a big change to enhance your home's curb appeal, then you can't go wrong with a fresh coat of paint. Because your home takes such a beating from weather throughout the year, a new coat of paint can do wonders to bring back your home's vitality. If that's too big of a project, consider giving your front door a fresh new shade. Whether it's a sunny yellow, dramatic black, or powerful red, an accent hue will make a noticeable statement.
4. Unconventional house numbers.
There are plenty of unique and modern font choices to pick from when it comes to your house numbers. Why keep using those old, boring metal house numbers when you can go with a style that matches your personality and makes it much easier to find you. An unconventional style can really make your house "pop" and give you that little bit of extra curb appeal without being too radical of a change.
5. Set the mood.
The right amount of lighting at just the right location not only gives your home a more inviting presence but can also serve as a form of safety for you and your guests (while keeping unwanted guests away). Another great option to enhance your curb appeal is to add just the right patio set and seating to create an atmosphere of friendliness and relaxation for when neighbors and friends come over. If you really want to liven up your front patio you can even consider installing a porch swing.
Heading to a summer party and need the perfect hostess gift? Bonnie Harms Designs has gorgeous summer wreaths!
Our handcraft home decor items and wreaths are the perfect items to enhance your home's curb appeal (or that of a friend or family member). If you have a custom design in mind,
feel free to contact us
at (956) 655-2935, or send us an email at bonnie@bonnieharmsdesigns.com, along with your name and phone number. Don't forget to get social with us and be inspired by the latest home decor trends and ideas on our
Instagram
and
Facebook
pages.