Love, Respect, & Strength: Best Wreath Ideas for Women's Equality Day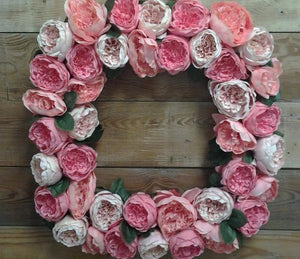 Every day we find inspiration and seek guidance from the women in our lives. Their constant support and advice help to shape us into better individuals. Mothers, sisters, teachers, friends, family, and all other women in society deserve recognition for their work and accomplishments.
Throughout history, women have fought diligently to be treated as equal members of society. On August 26th we celebrate Women's Equality Day in commemoration of the ratification of the 19th amendment, which gave women the right to vote in the United States.
Join us at Bonnie Harms Designs as we show love, gratitude, and honor to the important women in our lives who have sacrificed to improve our lives and the lives of others. Send a message of appreciation by decorating your home or workspace with a gorgeous handmade wreath that reminds you and others of why women make the world a better place.
You can also gift a Bonnie Harms Designs artisanal wreath to a woman that has made a significant impact on your life. Show how much you appreciate her by personalizing one of our high-quality wreaths. This sweet gesture will brighten both your day and hers.
Here are some of our custom designs that can help you celebrate Women's Equality:
Pretty in Pink Floral Wreath - Roses resemble respect. This design is handcrafted on a grapevine wreath base and measures 26" by 26". It is lined with silk cabbage roses in a variety of pink colors. This lovely wreath displays all that is beauty and growth. What better way to honor the women in your life than with a colorful piece that represents life itself.
Serenity Wreath - Show your sincere appreciation for the serenity women bring to your life. Our Serenity Wreath measures 21" and is decorated with eucalyptus, hydrangea, and cabbage roses. The natural essence of this wreath also reflects the beauty of mother nature. The wreath's accented right side makes a bold statement just as each woman does.
Radiant Sunflower Wreath - Golden and elegant, this floral piece is crafted on a grapevine wreath that measures 22". The sunflower arrangement hangs on a golden silk ribbon. It's gorgeous and radiant, just like the women that matter most to us.
Here are some additional ideas that can help you celebrate Women's Equality Day this August:
Write a thank you letter to an influential woman in your life. A heartfelt gesture could be as simple as a handwritten letter to the woman in your life who has made a significant impact on your life.
Support a local business owned and operated by women. Show the women-owned businesses in your community some love by shopping at their stores and supporting their hard work.
Get vocal on social media. Share a message of respect, love, and strength to commemorate the history of Women's Equality. If you purchase a handcrafted wreath from Bonnie Harms Design in celebration, share it on social media to show support for the empowering holiday.
Show your appreciation and love for the powerful women in your life by decorating your space with a Bonnie Harms artisanal wreath.  
For more ideas on how you can empower women with the simplicity of a well-decorated space, stop by at our McAllen location at 1124 Pecan Blvd. to see a variety of wreaths designs or contact us at (956) 655-2935 to begin your design.