Make Your 2018 Wedding One For the Books: Wedding Wreath Arches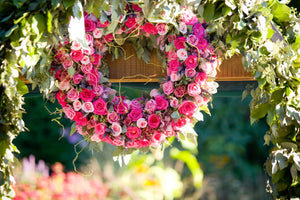 2018 is all about new takes on old traditions. That goes for everything from home decor to wedding archways. And, of course, when it comes to weddings, brides deserve to have a stunningly unique day.
One of the most extraordinary 2018 wedding trends that we here at Bonnie Harms Designs have been keeping an eye on is wedding wreath arches. Suffice to say that they are absolutely stunning and capture the magic of eternal love. Ceremony Wreaths - as they are being referred to - can be designed to match the theme of your wedding with foliage, floral patterns, and/or fairy lights that add an enchanting touch to any backdrop. Generally a complete circle of greeny or flowers, ceremony wreaths can be either elevated a bit off the ground or made to appear as if they sit directly on it.
If you're ready to explore this new idea that is sure to leave your guest spellbound, Festival Brides and Emma Loves Weddings both have some wonderful examples. And if you're ready to get started on your own wedding wreath arch, don't hesitate to contact Bonnie Harms Designs today!